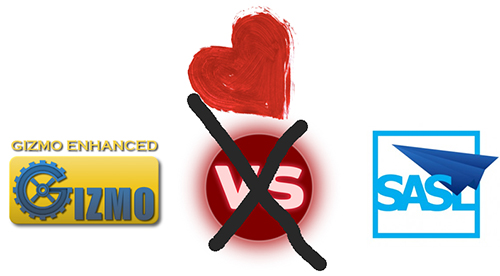 Gone are the days of that nasty, deafening, screeching sound!
Hello, Pilots!,
Today I am pleased to announce some rather big news. The short? Gizmo and SASL conflicts are no more! Read on…
Over the past couple of years two widely used plug-ins "took off" and helped to advance X-Plane in big ways. Of course, I'm speaking about Gizmo and SASL.
Gizmo is a plug-in that has been utilized in many products released at X-Aviation today, as well as some very big products to be released in the future by various parties. The same can be said for SASL, which is widely used in aircraft from the likes of Carenado, the Boeing 777 by Roman and Philipp, and a few others. With the popularity of the products these plug-ins are utilized by, problems between the two became very apparent. A very horrible, deafening, screeching noise often occurred and the sim would be brought to its knees when Gizmo and SASL ran together. This caused customers to be inconvenienced by having to move Gizmo out of the plug-ins directory of X-Plane, or by keeping two separate installs of X-Plane to just not have to deal with the hassles of conflict.
For a little over a year now we have been producing the next iteration of Gizmo (Gizmo 12). It is a big re-write of a lot of code, as well as additional core features added to allow developers to take X-Plane's aircraft system simulation to a whole new level. A number of developers have been working with this new version with very positive results in our private beta period. One very important fix here is a complete re-write in the way OpenAL sound is handled. Because of this and other adjustments to the code, we are very excited to announce that the conflicts between Gizmo and SASL are solved and you'll be able to get your hands on this soon! Don't stop reading here though…
While this effort to get Gizmo 12 in working order has been a huge coordination effort between multiple people at X-Aviation and Laminar Research, I would like to take this opportunity to thank Ben Russell for his extremely hard work over the last year to work on these items and get them checked off. It's been a long road, but we're very pleased with the results!
Another big bit of news…
While Gizmo 12 resolves the issues with SASL we realize that a lot of people would probably like a fix sooner rather than later. Right now we currently ship our products with Gizmo 11. We have worked extensively with Laminar Research over the last year in coming up with solid solutions to assist and better serve our customers. With that said, I am pleased to announce that starting with X-Plane 10.2 Beta 3, Gizmo 11 and SASL will no longer have the sound clash issues that affect so many people! We expect this version of X-Plane to be released within the next 24-48 hours so long as no issues crop up unexpectedly for the folks at Laminar Research. I have had the opportunity to test a private build of X-Plane 10.2 Beta 3 and can verify great results! All customers will not need to download any updates from Gizmo or SASL related products. Instead, the patch resides within the X-Plane application and you can leave Gizmo installed even while running aircraft that utilize SASL. A very big thanks goes out to Ben Supnik at Laminar for working closely with me over the last year on items related to this and getting things working for all of us users. It's been a longtime coming with constant badgering from our end, and Ben Supnik has always been helpful, receptive, and wonderful to work with!
So, folks, starting in just a matter of hours Gizmo and SASL will be able to live in harmony. I know this has been something we have ALL been looking forward to for a long time coming. The ability to switch between aircraft without anymore effort than necessary will be a welcome addition to many X-Plane users and our customers, and we look forward to enjoying X-Plane the way it's meant to be enjoyed…without conflict!
I appreciate you taking the time to read this, and wish you happy flights ahead!
Blue Skies!,
-Cameron